Cultivate Curiosity, Inspire Imagination.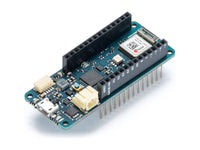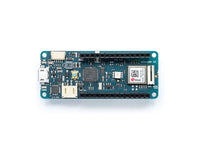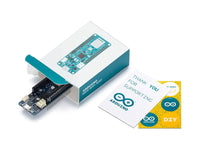 Arduino MKR WiFi 1010
Regular Price

$59.20

Sale Price

$59.20

Regular Price

Unit Price

per
Product Details
SKU:

ABX00023

In Stock:

2
DESCRIPTION
The MKR WiFi 1010 is a great choice for any beginner, maker, or professional to get started with the Internet of Things (IoT). Using the popular Arm® Cortex®-M0 32-bit SAMD21 processor, it also features the ECC508 crypto-chip for security. The board is part of the MKR family, where you can choose from a large variety of shields to build projects out of the box with minimal effort!
Please read: operating voltage is 3.3V
The microcontroller on this board runs at 3.3V, which means that you must never apply more than 3.3V to its Digital and Analog pins. Care must be taken when connecting sensors and actuators to assure that this limit of 3.3V is never exceeded. Connecting higher voltage signals, like the 5V commonly used with the other Arduino boards, will damage the board.
Please read: black conductive foam
You should remove the black conductive foam from the board pins before usage. If you don't remove it, the board may behave erratically.
TECHNICAL DETAILS
Name Arduino® MKR WiFi 1010
SKU ABX00023
Compatibility MKR
SAMD21 Cortex®-M0+ 32bit low power ARM MCU

Micro USB (USB-B)
Built-in LED Pin 6
Digital I/O Pins 8
Analog Input Pins 7 (ADC 8/10/12 bit)
Analog Output Pins 1 (DAC 10 bit)
PMW Pins 13 (0 - 8, 10, 12, A3, A4)
External interrupts 10 (0, 1, 4, 5, 6, 7, 8 ,9, A1, A2)
Bluetooth® Nina W102 uBlox module
Wi-Fi Nina W102 uBlox module
Secure element ATECC508A
UART Yes
I2C Yes
SPI Yes
I/O Voltage 3.3V
Input Voltage (nominal) 5-7V
DC Current per I/O pin 7 mA
Supported battery Li-Po Single Cell, 3.7V, 1024mAh Minimum
Battery connector JST PH

Processor 48 MHz
RTC 32.768 kHz
SAMD21G18A 256KB Flash, 32KB SRAM
Nina W102 uBlox module 448 KB ROM, 520KB SRAM, 2MB Flash

Weight 32 g
Width 25 mm
Length 61.5 mm
SHIPPING LIST