Cultivate Curiosity, Inspire Imagination.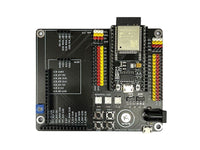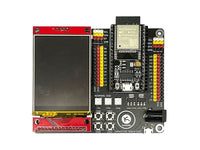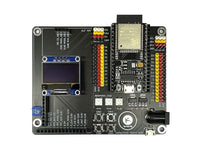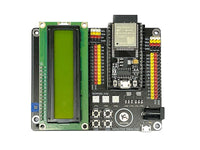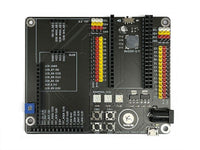 ESP32 Expansion Board
Regular Price

$13.20

Sale Price

$13.20

Regular Price

Unit Price

per
Product Details
SKU:

ESP-EXP-001

In Stock:

10
DESCRIPTION
The ESP32 extension board is a versatile and convenient tool designed for prototyping projects with ease. It features breakout pins with power and ground rails, allowing for easy connections to various components. With both 5V and 12V external power inputs, this extension board offers flexibility and compatibility with a wide range of devices.
The board is designed to be compatible with the narrow and wide versions of the ESP32 dev kits. The board also comes with mounting holes, making it easy to integrate into larger projects or enclosures. The three Neopixel LEDs and passive buzzer are great for adding visual and audio feedback to your project. Four input buttons and one capacitive touch sensor offer different input options to interact with your project.
The I2C pins with both 3V and 5V options provide easy connectivity to I2C devices, and the OLED socket, TFT 2.4 inch socket and LCD 1602 socket enable the use of various display types to showcase your project's data and status.
One of the unique features of this extension board is its ability to be broken in half, making it smaller and more compact. This feature is especially useful for prototyping projects where space is limited.
When plugging in the ESP32, make sure the antenna is facing outwards.
Note: If you are connecting an LCD, please remove the LCD before uploading as pin 2 is required to be free to be able to upload your program.
TECHNICAL DETAILS
Input Voltage: Up to 12V
LCD Pins: 15(RS), E(4), D4(2), D5(14), D6(13), D7(5)
TFT 2.4" Pins: TFT_CS(15), TFT_RST(4), TFT_D/C(2), TFT_MOSI(23), TFT_SCK(18), TFT_MISO(19), T_CLK(18), T_CS(14), T_DIN(23), T_OUT(19), T_IRQ(13)
OLED Pins: GND, VCC, SCL, SDA. Make sure the first pin is GND - Some OLEDs has VCC pin as the first pin.
SD Pins: SD_CS(5), SD_MOSI(23), SD_MISO(19), SD_SCK(18)
Neopixel Pin: 16
Buzzer Pin: 17
Button Input Pins: 34, 35, 36, 39
Capacitive Touch Pin: 33
Dimensions: 100mm x 81mm
Snapped Dimensions: 56mm x 81mm
SHIPPING LIST