Cultivate Curiosity, Inspire Imagination.
FireBeetle 2 Board ESP32-S3-U (N16R8) AIoT Microcontroller with Camera (Wi-Fi & Bluetooth Routed through Cable)
Regular Price

$32.80

Sale Price

$32.80

Regular Price

Unit Price

per
Product Details
SKU:

DFR0975-U

In Stock:

5
DESCRIPTION
FireBeetle 2 ESP32-S3-U is a high-performance main controller built around the ESP32-S3-U-WROOM-1-N16R8 module. In addition, this microcontroller is equipped with an OV2640 camera, enabling it to excel in applications such as image recognition. The ESP32-S3-U module also boasts ample storage capacity and a rich set of communication interfaces, catering to a wide range of application requirements. With its enhanced capabilities, the FireBeetle 2 ESP32-S3-U opens up endless possibilities for various projects and functionalities.
Image Recognition
FireBeetle 2 ESP32-S3-U offers an onboard camera interface for easy connection with a camera. Also, an independent camera power supply circuit is designed, which helps reduce interference from other signals to the camera. The board comes with an OV2640 camera that offers 2 megapixels, a 68°FOV, and up to 1600*1200 resolution.
For instance, in a smart home scenario, the board's camera can be utilized to monitor the situation at home. When someone enters, it can automatically send notifications and store the captured image data for reporting purposes.
Image recognition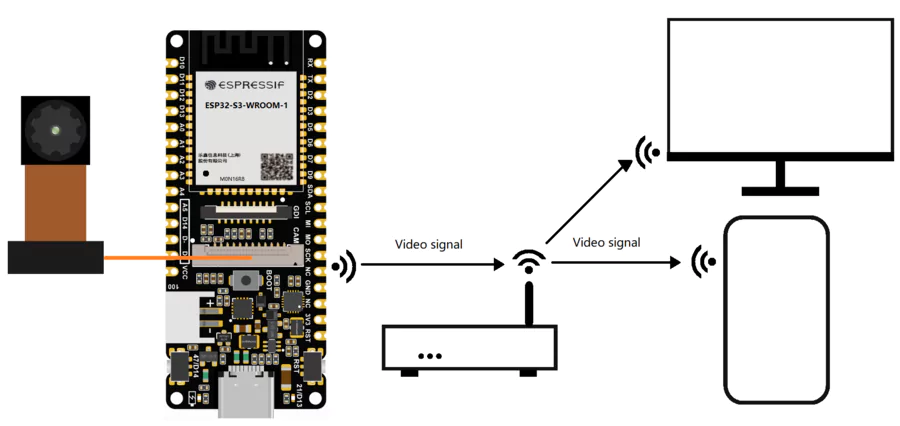 Video picture transmission

Powerful Chips and More Storage Space
The acceleration for neural network computing and signal processing workloads provided by the ESP32-S3-U chip makes the module an ideal choice for a wide variety of applications, such as speech recognition, image recognition, and so on.
For instance, when training for facial recognition, it is possible to store a greater number of facial models. This allows for faster results when conducting data comparisons.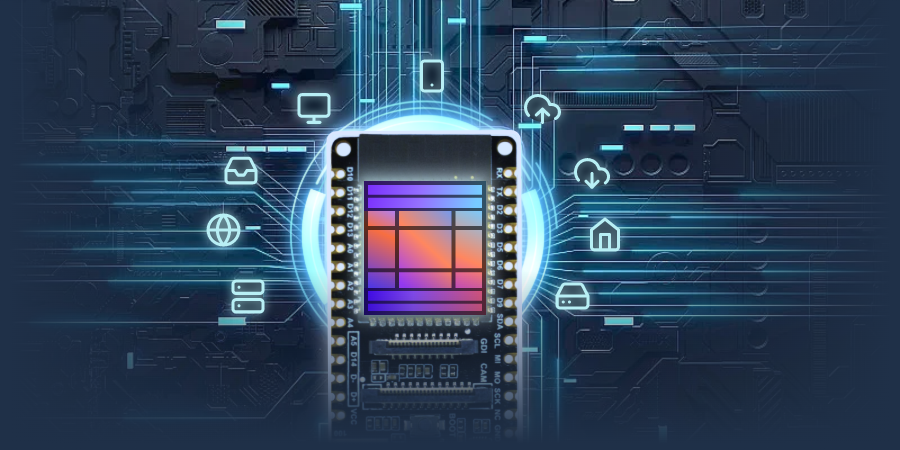 Powerful Chip

Dual-Mode Communication
In addition, FireBeetle 2 ESP32-S3-U supports WiFi and Bluetooth 5 (LE) dual-mode communication, which reduces the difficulty of networking. Meanwhile, both Bluetooth Mesh protocol and Espressif WiFi Mesh are supported for more stable communication and a larger coverage area. With the support of Matter protocol, the microcontroller can be used to develop industrial standard smart home devices for a wider range of IoT and AIoT (Artificial Intelligence of Things) scenarios.
User-Friendly
This development board is designed to be user-friendly, addressing the complexity of screen wiring through its onboard GDI screen interface. Additionally, it integrates power management features, supporting battery charging and hardware power control. The FireBeetle 2 ESP32-S3-U can be programmed using the Arduino IDE, ESP-IDF, and MicroPython, allowing developers to utilize both C and Python to interact with the hardware.


FEATURES
Image Recognition: Onboard camera interface & independent camera power supply, easy to connect and strong anti-interference
Powerful Chip: ESP32-S3 module with AI Acceleration
More storage space: 16MB Flash & 8MB PSRAM
Power management integrated, support Li-ion battery charging and hardware On/OFF controlling
Onboard GDI for easy connection with screens
Wi-Fi and Bluetooth 5 dual-mode communication
APPLICATIONS
AIoT-related projects
Speech recognition
Image recognition
TECHNICAL DETAILS
Basic Parameters
Operating Voltage: 3.3V
Type-C Input Voltage: 5V DC
VCC Input Voltage: 5V DC
Max Charging Current: 1A
Operating Temperature: -20 to 70℃
Dimension: 25.4x60mm/1x2.36"
Hardware Information
Processor: Xtensa® dual-core 32-bit LX7 microprocessor
Main Frequency: 240 MHz
SRAM: 512KB
ROM: 384KB
Flash: 16MB
PSRAM: 8MB
RTC SRAM: 16KB
USB: USB 2.0 OTG full-speed
WIFI
WIFI Protocol: IEEE 802.11b/g/n
Bandwidth: Support 20 MHz and 40 MHz at 2.4 GHz band
WIFI Mode: Station, SoftAP, SoftAP+Station combined mode
WIFI Frequency: 2.4GHz
Frame Aggregation: TX/RX A-MPDU, TX/RX A-MSDU
Bluetooth
Bluetooth Protocol: Bluetooth 5, Bluetooth mesh
Bluetooth Frequency: 125 Kbps, 500 Kbps, 1 Mbps, 2 Mbps
Ports
26x Digital I/O
LED PWM Controller 8 Channels
4x SPI
3x UART
2x I2C
2x I2S
IR Transceiver: 5x transmit channel, 5x receive channel
2× 12-bit SAR ADC, 20 Channels
DMA Controller: 5x transmit channel, 5x receive channel
SHIPPING LIST
1x FireBeetle 2 Board ESP32-S3-U (N16R8)
1x OV2640 Camera
1x 2.4GHz WIFI&BLE Antenna
1x 18pin-2.54mm Pin Header
1x 18pin-2.54mm Female Header
1x 14pin-2.54mm Pin Header
1x 14pin-2.54mm Female Header