Cultivate Curiosity, Inspire Imagination.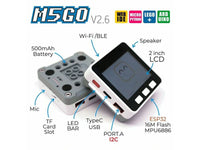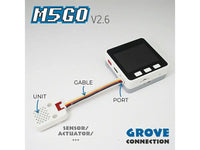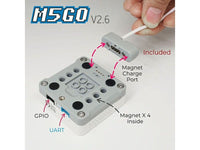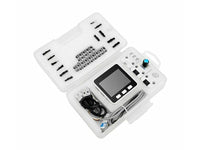 M5Stack M5GO IoT Starter Kit V2.6
Regular Price

$115.00

Sale Price

$115.00

Regular Price

Unit Price

per
Product Details
SKU:

K006-V26

In Stock:

12
DESCRIPTION
The M5GO IoT Starter Kit is a cost effective IoT starter development kit. The kit contains Core Controller M5GO + 6 expansion units with different functions (sensors/actuators/splitters) + . The core controller M5GO adopts Espressif ESP32 chip, equipped with 2 low-power Xtensa® 32-bit LX6 microprocessors, with a main frequency of 240MHz. With 16M FLASH memory for larger program size. Besides its powerful , the MCU also supports Wi-Fi & Bluetooth dual-mode, which can be used to build smart wearable devices, smart home and other applications.
Every M5stack development kit can be programmed through Arduino IDE, WebIDE UIFlow, Micropython, and Blockly, simplifying the development process for those requiring a joint hardware and software solution. Not only does M5stack have far-reaching IoT applications in industry, agriculture, and home, but it also empowers students to learn to code in STEM classrooms.
This M5GO kit is specifically designed for STEM education. The pack includes 1 M5GO conroller + 6 M5units + plenty of accessories. Having all those goods, together with the Blockly program platform, allows the school students to explore the engineering world , making their own IoT product and implement brilliant ideas into real life.
Power on/off:
Power on: click the red power button on the left
Power off: Quickly double-click the red power button on the left
PRODUCT FEATURES
Based on ESP32 development
16M FLASH
Integrated HD IPS display panel with various hardware peripherals
Rich resources interface, compatible with M5Stack stacking modules and sensors, Strong expandability
The base is compatible with 8mm size LEGO blocks, the structures just so interesting!
Microsoft Azure authentication device
Compatible with multi-platform development:

M5GO IOT CONTROLLER
Low code development:
Supports UIFlow graphical programming platform, scripting-free, cloud push
Fully compatible with Arduino, ESP32-IDF and other mainstream development platforms
FreeRTOS support, with dual-core and multitasking mechanism, it can perform the tasks efficiently, Program optimization.
High integration.
2.0-inch IPS display panel, 6-axis IMU, programmable RGB lights x10, microphone, speaker, custom buttons x3
Built-in Li-ion power supply, integrated power management chip, supports TypeC interface and POGO PIN interface power supply
Finely tuned RF circuitry for stable and reliable wireless communication
Strong expandability.
GROVE expansion ports x3 (I2C, GPIO, UART)
Easy access to M5Stack hardware and software system, stackable module design, plug-and-play sensor expansion
6x EXPANSION UNITS
ENV UNIT III: Temperature, humidity, and atmospheric pressure sensors, with I2C communication interface for rapid acquisition of environmental information.
PIR UNIT: Body sensor, passive pyroelectric for human body sensing, digital signal output status.
ANGLE UNIT: Knob Potentiometer, analog signal input for music/lighting adjustment
IR UNIT: Integrated infrared transmitter, receiver. Free coding, infrared transceiver.
RGB UNIT: 3x Programmable RGB LED, support programming to control any color display
HUB UNIT: I2C device splitter, expand single I2C bus to 3 channels, can access different I2C address devices
APPLICATIONS
Internet of things terminal controller
Stem education product
DIY creation
Smart Home
Smart Weather Station
CONTENTS
TECHNICAL DETAILS
| | |
| --- | --- |
| Resources | Parameter |
| ESP32-D0WDQ6-V3 | 240MHz dual core, 600 DMIPS, 520KB SRAM, Wi-Fi, dual mode Bluetooth |
| Flash | 16MB |
| Input Voltage | 5V @ 500mA |
| Host Interface | TypeC x1, POGO PIN x1, I2C x1, GPIO x1, UART x1 |
| IPS Screen | 2 inch, 320x240 Colorful TFT LCD, ILI9342C, 853nit max brightness |
| Keys | Custom Keys x 3 |
| Speaker | 1W-0928 |
| Microphone | Analog BSE3729 Microphone |
| IMU | 6-axis MPU6886 |
| USB Chip | CH9102F |
| LED | SK6812 RGB LED x 10 |
| Antenna | 2.4G 3D Antenna |
| Battery | 500 mAh @ 3.7V |
| Operating Temperature | 32°F to 104°F ( 0°C to 40°C ) |
| Net weight | 56.4g |
| Gross weight | 228g |
| Product Size | 54 x 54 x 21 mm |
| Package Size | 147 x 90 x 40 mm |
| Case Material | Plastic ( PC ) |
SHIPPING LIST
1x M5GO
6x Units(ENV III, IR, RGB, PIR, ANGLE, HUB)
4x LEGO block
12x LEGO Connector
4x GROVE cable
1x Type-C USB cable(20cm)
1x Quick Start Guide