Cultivate Curiosity, Inspire Imagination.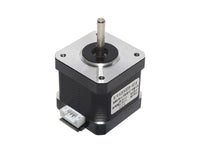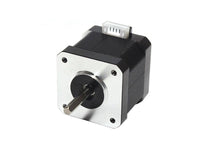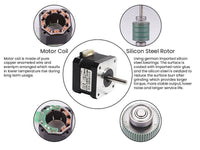 Stepper Motor NEMA 17 12V 2.8kg Torque
Regular Price

$12.00

Sale Price

$12.00

Regular Price

Unit Price

per
Product Details
SKU:

42BYGH34S

In Stock:

5
DESCRIPTION
A stepper motor to satisfy all your robotics needs! This 4-wire bipolar stepper has 1.8° per step for smooth motion and a nice holding torque. If you need speed and precision, this one is for you. The stepper motor requires a stepper driver to move, and the amount of torque required can be adjusted from your stepper driver.
Some nice details include a ready-to-go cable and a machined drive shaft (so you can easily attach stuff).
TECHNICAL DETAILS
No of Phase: 2
Step Angle: 1.8°
Rated Voltage: 12V
Rated Current: 1.5A
Phase Resistance: 2.3Ω ±10%
Phase Induction: 2.5mH ±20%
Holding Torque: 2.8kg.cm
Rotor Inertia: 35g.cm^2
Shaft Diameter: 5mm
SHIPPING LIST
1x Stepper Motor NEMA 17 12V 2.8kg Torque
1x JST to DuPont Cable