Cultivate Curiosity, Inspire Imagination.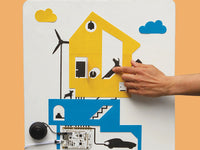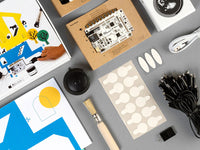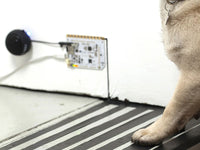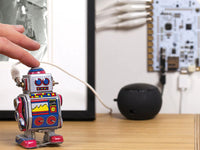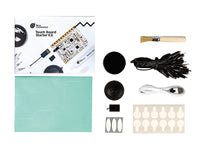 Touch Board Starter Kit
Regular Price

$207.40

Sale Price

$207.40

Regular Price

Unit Price

per
Product Details
SKU:

SKU-5235

In Stock:

1
DESCRIPTION
Make your world interactive with Touch Board projects
The Touch Board Starter Kit is the best kit for beginners looking to make an interactive project. With a Touch Board, Electric Paint, essential components, and step-by-step instructions you'll have everything you need to turn any surface, object, or space into a sensor. No programming required!


Discover the Touch Board and Electric Paint

The Touch Board is a small microcontroller that has 12 golden touch sensors. Touch one of these sensors to trigger a sound!

You can extend each sensor with conductive materials, such as Electric Paint. So you can paint a sensor with Electric Paint and then touch the paint to trigger the sound. This allows you to paint interactive posters, turn various objects into sensors and so much more!

With this kit, you don't to do any programming: To change the sounds, you only need to change the files on the included microSD card, no programming required!
Design an interactive poster
Make an image that talks, and bring visual stories to life with your own sounds and Electric Paint!


Make objects interactive
Add intelligence and interactivity to the objects around you. Connect the Touch Board to any conductive object and give it a voice!


The Touch Board can do so much more
Straight out of the box, the Touch Board is pre-programmed to play sounds stored on the included microSD card.
But it can also be re-programmed via the Arduino IDE, so you can customize the function of the 12 touch sensors into touchless/proximity sensors and instead of playing sounds, you can turn on lights, or send data to a computer.

SHIPPING LIST
1x Touch Board
1x Electric Paint 10ml tube
1x Electric Paint 50ml jar
1x Guidebook
1x microSD card
1x microSD card reader
1x Micro USB cable
1x Mini speaker
10x Crocodile clips (colours vary)
1x Stencil
1x Stencil brush
12x Sticky tabs
3x Velcro stickers
2x Paper cutouts