Cultivate Curiosity, Inspire Imagination.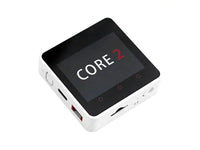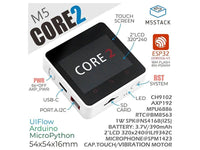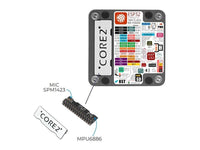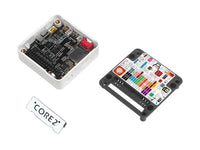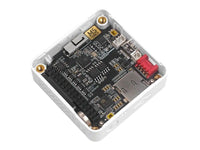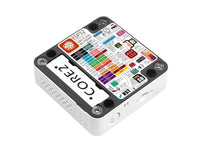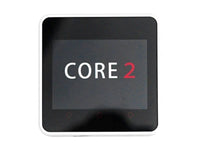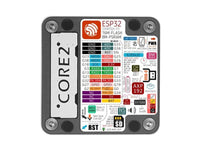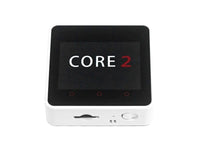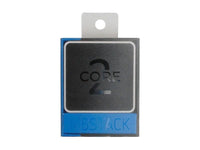 M5Stack Core2 ESP32 IoT Development Kit
Regular Price

$77.80

Sale Price

$77.80

Regular Price

Unit Price

per
DESCRIPTION
M5Core2 is the second generation core device in the M5Stack development kit series, which further enhances the functions of the original generation of cores.
The MCU is an ESP32 model D0WDQ6-V3 and has dual core Xtensa® 32-bit 240Mhz LX6 processors that can be controlled separately. Wi-Fi are supported as standard and it includes an on board 16MB Flash and 8MB PSRAM, USB TYPE-C interface for charging, downloading of programs and serial communication, a 2.0-inch integrated capacitive touch screen, and a built-in vibration motor.
M5Core2 also features a built-in RTC module which can provide accurate timing. The power supply is managed by an AXP192 power management chip, which can effectively control the power consumption of the base and a built-in green LED power indicator helps to notify the user of battery level. The battery capacity has been upgraded to 390mAh, which can power the core for much longer than the previous model.
The M5Core2 retains the TF-card(microSD) slot and speakers. However, in order to ensure higher quality sound output, the I2S digital audio interface power amplifier chip is used to effectively prevent signal distortion. There are independent power and reset buttons on the left side and bottom of the base.
The 3 icons on the front of the screen are capacitive buttons which are programmable. There is a small expansion board on the back of the base with a 6-axis IMU sensor and microphone. The development platform and programming language supported by M5Stack Core2: Arduino, UIFlow (using Blockly, MicroPython language) No matter what level of your development and programming skills, M5Stack will help You gradually turn your ideas into reality.
Power switch operation:
Power on: One click the power button on the left
Power off: Press power button on the left for 6 seconds
Reset: Click the RST button on the bottom side
USB Drive
Before using, please go to download page to download the USB driver that matches your operating system, and install it.
Note: Core2 currently has two CP2104/CH9102F A USB chip version, users can install the drivers (CH9102 and CP210x) that are compatible with two ICs at the same time to ensure that the device drivers work normally.
Extensions
To stack M5Core2 with M5 modules, you need to remove/eliminate the battery bottom of Core2; If you wish to keep I2S Mic, IMU and Battery functions, a M5GO Bottom2 is required.**The CP2104 chip interface is reserved on the PCB of CORE2 to interface with the lithium battery.
The vibration sensor of M5Core2 and M5 Base series are incompatible in mechanical design. Please do not stack them together.
Note: Some of the screen edges will have touch non-linearity problem, you can try to use M5Tool to upgrade the screen firmware to solve this problem.
PRODUCT FEATURES
ESP32-based, built-in Bluetooth/Wi-Fi
16M Flash,8M PSRAM
Built-in speaker, power indicator, vibration motor, RTC, I2S amplifier,
capacitive touch screen, power button, reset button
TF card slot (16G Maximum size)
Built-in lithium battery, equipped with power management chip
Independent small board built-in 6-axis IMU, PDM microphone
M-Bus Socket & Pins
Compatible with multi-platform development:

UIFlow
MicroPython
Arduino
.NET nanoFramework
APPLICATIONS
Internet of things terminal controller
Stem education product
DIY creation
Smart home equipment
TECHNICAL DETAILS
Resources
Parameter
ESP32-D0WDQ6-V3
240MHz dual core, 600 DMIPS, 520KB SRAM, Wi-Fi, Bluetooth
Flash
16MB
PSRAM
8MB
Input Voltage
5V @ 500mA
Interface
TypeC x 1, GROVE(I2C+I/0+UART) x 1
IPS LCD Screen
2.0"@320*240 ILI9342C
Touch Screen
FT6336U
Speaker
1W-092
LED
Green power indicator light
Button
Power button, RST button, Virtual screen button*3
Vibration reminder
Vibration motor
MIC
SPM1423
I2S Power Amplifier
NS4168
6-axis IMU
MPU6886
RTC
BM8563
PMU
AXP192
USB Chip
CP2104/CH9102F (two chip versions, there is no difference in function and use)
DC-DC Boost
SY7088
TF card slot
16G Max
Lithium Battery
390mAh @ 3.7V
Antenna
2.4G 3D antenna
Operating temperature
0°C to 60°C
Base screw specifications
Hexagon socket countersunk head M3
Internal PCB board reserved interface
Battery interface (specification: 1.25mm-2P)
USB line interface (specification: 1.25mm-4P)
Net Weight
52g
Gross Weight
70g
Product Size
54 x 54 x 16mm
Package Size
75 x 60 x 20mm
Case Material
Plastic ( PC )
SHIPPING LIST
1x M5Stack Core2
1x Type-C USB(20cm)
1x HEX KEY