Cultivate Curiosity, Inspire Imagination.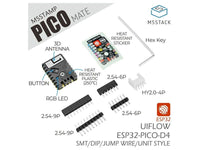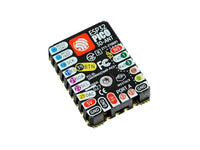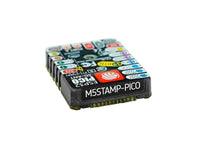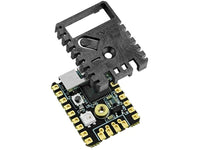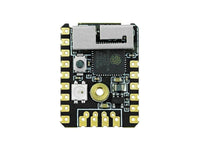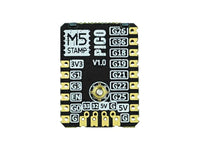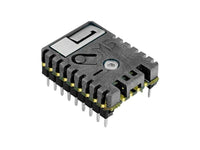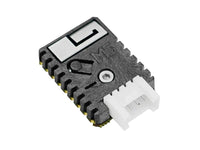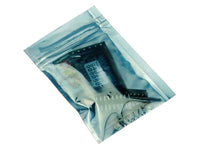 M5Stamp Pico Mate with Pin Headers
Regular Price

$15.40

Sale Price

$15.40

Regular Price

Unit Price

per
DESCRIPTION

STAMP-PICO features an ultra-compact design with two low-power Xtensa® 32-bit LX6 microprocessors at 240MHz on a PCB as tiny and delicate as a postage stamp. low power consumption. It is ideal for any space-constrained or battery-powered devices such as wearables, medical devices, sensors, and other IoT devices.
MULTIFORM: 5 options of installation, means endless possibilities! (SMT, DIP, fly wire, grove interface), with a high-temperature resistant plastic shell, 3D antenna and components can be better protected.


LOW-CODE DEVELOPMENT: STAMP-PICO supports UIFlow graphical programming platform, scripting-free, cloud push; and fully compatible with Arduino, MicroPython, ESP32-IDF, and other mainstream development platforms to quickly build various applications.


HIGH INTEGRATION: STAMP-PICO contains 5V->3.3V DC/DC port, GPIOx12, programmable RGB light x1, button x1, finely tuned RF circuit, providing stable and reliable wireless communication.


STRONG EXPANDABILITY: Easy access to M5Stack's hardware and software ecology system: a wealth of sensors, actuators, functional modules, and accessories to choose from, Extremely fast adaptation.
PRODUCT FEATURES
Chip-set:ESP32-PICO-D4 (2.4GHz Wi-Fi dual mode)
Support UIFlow graphical programming
Multi-IO pinout, support multiple application forms (SMT, DIP, fly-by-wire)
Integrated programmable RGB LEDs and buttons
Miniature module
APPLICATIONS
Instrumentation
Wi-Fi Remote Monitoring/Control
Smart Home
Color LED Control
Fire/security intelligent integrated management
Smart Card Terminal
Wireless POS
TECHNICAL DETAILS
| | |
| --- | --- |
| Resources | Parameter |
| Master Control Resource | ESP32-PICO-D4 |
| Flash | 4MB |
| Input Voltage | 5V @ 500mA |
| Power consumption | Normal standby:5V@29mA, WIFI STA mode: 5V@60mA, BT mode data sending status: 5V@84mA, Deep-sleep mode: 5V@0.35mA |
| Wireless communication distance | AP Mode: 16m |
| UI | Programmable physical keys x 1, Programmable RGB LED (SK6812) x 1 |
| Antenna Type | 2.4G 3D Antenna |
| Wi-Fi | 802.11 b/g/n (up to 150 Mbps for 802.11n), spectrum range: 2.4 GHz ~ 2.5 GHz |
| Module Resource Interface | ADC, DAC, touch sensor, SD/SDIO/MMC host controller, SPI, SDIO/SPI slave controller, EMAC, motor PWM, LED PWM, UART, I2C, I2S, IR remote controller, GPIO, pulse counter |
| IO interface x12 | G0, G1, G3, G26, G36, G18, G19, G21, G22, G25, G32, G33 |
| IO interface spacing | 2.54mm |
| Operating temperature | 0°C to 60°C |
| Net weight | 2.6g |
| M5Stamp Pico (5pcs) Gross weight | 18g |
| M5Stamp Pico Mate Gross weight | 6g |
| M5Stamp Pico DIY Kit Gross weight | 12g |
| Fixing screw specifications | M2*4 countersunk head hexagon socket mechanical teeth |
| Product Dimensions | 18 * 24 * 4.6mm |
| Package Size | 85*55mm sealing bag (translucent) |
SHIPPING LIST
1x M5Stamp Pico Mate
1x Heat Resistant Sticker
1x Hex Key
1x 4-pin Socket
2x Female Headers
2x Male Headers