Cultivate Curiosity, Inspire Imagination.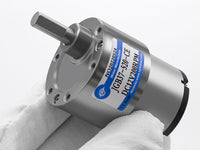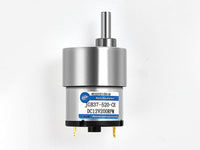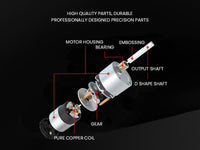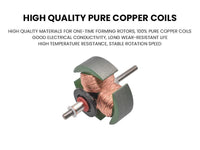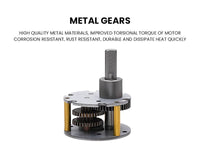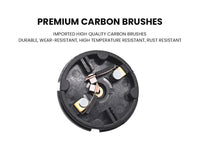 Motor DC 6V 12V Gearbox
Regular Price

$12.80

Sale Price

$12.80

Regular Price

Unit Price

per
Product Details
Variant:

6V 10RPM

SKU:

MOT-BRU-001

In Stock:

8
DESCRIPTION
The first step in a robotics project is to get a motor spinning. Motors comes in different sizes and voltages, and drives at different speed depending on the gear reduction ratio. There is often a trade-off between speed and accuracy; So if you need accuracy go for a lower RPM if not you can opt for speed with a higher RPM.
TECHNICAL DETAILS
Output Shaft Diameter: 6mm
Motor DC 6V
Reduction Ratio: 810:1
No Load Operating Current: 0.2A
No Load RPM: 10 ±10%
Rated Load Operating Current: 0.6A
Rated Load RPM: 8 ±10%
Rated Load Torque: 12kg
Rated Load Power: 3.6W
Stall Torque: 48kg
Stall Current: 2.2A
Reduction Ratio: 270:1
No Load Operating Current: 0.2A
No Load RPM: 29 ±10%
Rated Load Operating Current: 0.6A
Rated Load RPM: 23 ±10%
Rated Load Torque: 4.2kg
Rated Load Power: 3.6W
Stall Torque: 19.4kg
Stall Current: 2.2A
Reduction Ratio: 131:1
No Load Operating Current: 0.2A
No Load RPM: 61 ±10%
Rated Load Operating Current: 0.6A
Rated Load RPM: 46 ±10%
Rated Load Torque: 2.3kg
Rated Load Power: 3.6W
Stall Torque: 9.2kg
Stall Current: 2.2A
Reduction Ratio: 56:1
No Load Operating Current: 0.2A
No Load RPM: 142 ±10%
Rated Load Operating Current: 0.6A
Rated Load RPM: 107 ±10%
Rated Load Torque: 1kg
Rated Load Power: 3.6W
Stall Torque: 4kg
Stall Current: 2.2A
Reduction Ratio: 18.8:1
No Load Operating Current: 0.3A
No Load RPM: 425 ±10%
Rated Load Operating Current: 0.6A
Rated Load RPM: 340 ±10%
Rated Load Torque: 0.4kg
Rated Load Power: 3.6W
Stall Torque: 1.6kg
Stall Current: 2.2A
Motor DC 12V
Reduction Ratio: 506:1
No Load Operating Current: 0.1A
No Load RPM: 12 ±10%
Rated Load Operating Current: 0.3A
Rated Load RPM: 9.4 ±10%
Rated Load Torque: 9.1kg
Rated Load Power: 3.6W
Stall Torque: 36.4kg
Stall Current: 1.2A
Reduction Ratio: 169:1
No Load Operating Current: 0.1A
No Load RPM: 35 ±10%
Rated Load Operating Current: 0.3A
Rated Load RPM: 28 ±10%
Rated Load Torque: 3.4kg
Rated Load Power: 3.6W
Stall Torque: 13.6kg
Stall Current: 1.2A
Reduction Ratio: 90:1
No Load Operating Current: 0.1A
No Load RPM: 66 ±10%
Rated Load Operating Current: 0.2A
Rated Load RPM: 52 ±10%
Rated Load Torque: 2kg
Rated Load Power: 3.6W
Stall Torque: 8kg
Stall Current: 1.2A
Reduction Ratio: 56:1
No Load Operating Current: 0.1A
No Load RPM: 107 ±10%
Rated Load Operating Current: 0.2A
Rated Load RPM: 85 ±10%
Rated Load Torque: 1.2kg
Rated Load Power: 3.6W
Stall Torque: 4.8kg
Stall Current: 1.2A
Reduction Ratio: 18.8:1
No Load Operating Current: 0.1A
No Load RPM: 319 ±10%
Rated Load Operating Current: 0.2A
Rated Load RPM: 255 ±10%
Rated Load Torque: 0.48kg
Rated Load Power: 3.6W
Stall Torque: 1.9kg
Stall Current: 1.2A
SHIPPING LIST
1x Motor DC 6V 12V Gearbox