Cultivate Curiosity, Inspire Imagination.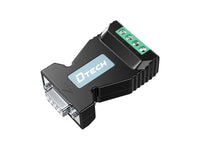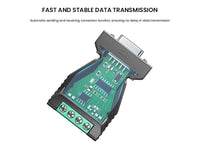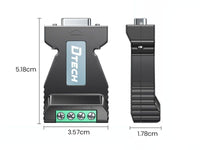 RS232 to RS485 Converter
Regular Price

$9.00

Sale Price

$9.00

Regular Price

Unit Price

per
Product Details
SKU:

MOD-BRE-013

In Stock:

12
DESCRIPTION
This RS232 to RS485 Converter allows you to easily convert RS232 to RS485 signal or vice versa. It is compatible with RS-232C, RS-485 standard of EIA/TIA and works in asynchronous, half-duplex or full-duplex, differential transmission mode.
TECHNICAL DETAILS
Input Voltage: 9V
Compatibility: EIA/TIA RS232C standard and RS485, RS422 standard
Working Mode: Asynchronous, half-duplex or full-duplex, differential transmission
Environmental Protection Level: 600W lighting surge protection for each line of RS485 interface
Transmission Medium: Twisted pair (wire diameter ≥0.5mm) or shielded wire
Transmission Rate: 300 - 115200bps
Transmission Distance: RS485 up to 1200m, RS232 up to 15m
Operating Temperature: -20°C to +70°
SHIPPING LIST
1x RS232 to RS485 Converter