Cultivate Curiosity, Inspire Imagination.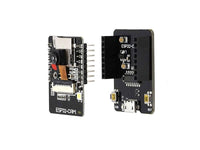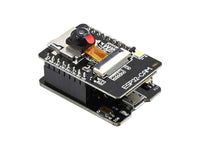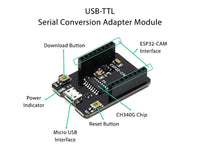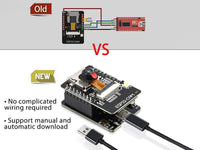 WiFi Bluetooth Module ESP32-CAM with Programmer
Regular Price

$13.80

Sale Price

$13.80

Regular Price

Unit Price

per
Product Details
SKU:

ESP-BOA-002

In Stock:

14
DESCRIPTION
The ESP32-CAM can be widely used in various IoT applications as it has a very competitive small form factor camera module that can operate independently as a minimum system with a footprint of only 27*40.5*4.5mm and a deep sleep current of up to 6mA.
ESP-32CAM can be widely used in various IoT applications such as home smart devices, industrial wireless control, wireless monitoring, QR wireless identification, wireless positioning system signals, etc.
ESP-32CAM is packaged in DIP and can be directly plugged into the backplane for quick production. It provides customers with a highly reliable connection method and is convenient for use in various IoT deployments.
TECHNICAL DETAILS
SPI Flash: 32Mbit default
RAM: 520KB SRAM + 4M PSRAM
Bluetooth: Bluetooth 4.2 BR/EDR and BLE standards
Wi-Fi: 802.11 b/g/n
Interface: UART/SPI/I2C/PWM/ADC/DAC
Support SD Card: 4GB max.
IO Port: 9
UART Baudrate: 115200 default
Image Output Format: JPEG (OV2640 support only), BMP, GRAYSCALE
Antenna: Onboard PCB antenna, 2dBi
Transmit Power: 802.11g: 14±2 dBm (@54Mbps); 802.11n: 13±2 dBm (@MCS7); 802.11b: 17±2 dBm (@11Mbps)
Receiving Sensitivity: CCK, 1 Mbps : -90dBm CCK, 11 Mbps: -85dBm6 Mbps (1/2 BPSK): -88dBm54 Mbps (3/4 64-QAM): -70dBm MCS7 (65 Mbps, 72.2 Mbps): -67dBm
Power Consumption: Turn off the flash lamp:180mA@5V; Turn on the flash lamp and turn on the brightness to the maximum:310mA@5V; Deep-sleep: Minimum power consumption can be achieved 6mA@5V; Modem-sleep: Minimum up to 20mA@5V; Light-sleep: Minimum up to 6.7mA@5V
Security: WPA/WPA2/WPA2-Enterprise/WPS
Operating Temperature: -20°C to +85°C
SHIPPING LIST
1x WiFi Bluetooth Module ESP32-CAM
1x OV2640 2MP Camera
1x ESP32-CAM Programmer